Activities
From Beaches, Hotspots, Dining, Shopping, Sailing and more... We have compiled a list of our favorite island and surrounding area activities and excursions.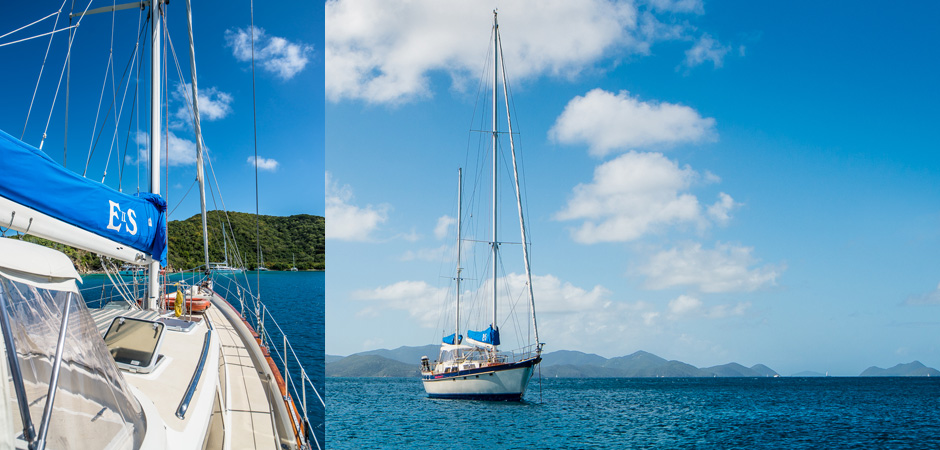 For local sightseeing:
4 WD rental vehicle is a must to make the most of your stay at Summer Heights. We like to refer our guests to Dede's Car Rentals. James Pickering, and his brother, Al, offer a very friendly and professional service. They offer a range of cars to suit all sizes of groups.
---
Beaches:
If you want to experience a day at the beach, here are a few of the best in the Tortola. In winter months, particularly, there can be very strong ground swell and rip currents, so a Lifeguard system has recently been introduced on some beaches. Most beaches have warnings about dangerous conditions, if applicable. There is also a Safety Flag system. Please be aware of the flags and follow the instructions. The best beaches are all on Tortola's north shore about a 12 minute drive from Summer Heights.
Smuggler's Cove is on the north west corner of Tortola and about a 15 minute drive from the It's a small, sandy beach with good snorkelling. The road is unpaved but passable.
Long Bay is about a 10 minute drive from the villa, along a good road. It offers a mile long stretch of white sandy beach, which can be quite rough in the winter if there is a north swell. There is a hotel and several guest houses at the eastern end of the beach but, if you walk west to the far end of the beach, you can find solitude and good swimming.
Apple Bay, one of the island's surfing beaches, is also home to the infamous Bomba Shack. The main road runs right past the beach and it is quite rocky. Worth a look but not to stay – unless you are a surfer!!
Cane Garden Bay has the reputation of being the best beach on the island but is also the most commercial. It has a gently curving beach which is lined with bars & restaurants. It's a safe beach for children as the water is usually calm and it shelves gradually from the shore. Water sports are available for rent such as pedal boats & kayaks. The bay is a very popular anchorage for boats so it can get crowded, particularly on days when cruise ships are in town! However, it is well worth a visit and Callwood's Rum Factory on the west end of the beach is worth seeing.
Brewer's Bay is a little more remote than Cane Garden Bay and the road to it is steep and windy. However, it is a quieter and less frequented beach and offers safe swimming, some snorkelling, two bars and a campsite.
Josiah's Bay, on the north shore, near East End, is another surfer's beach. There is a bar/restaurant on the beach and several shelters. There are not many shells to be found in the BVI anymore, but this beach has always been quite good for shelling. Be warned, in the winter when a north swell is running, this beach can be very dangerous with a strong rip-tide and undertow.
Lambert Beach is a wide palm fringed beach, which can be reached from East End by a private road leading to the Lambert Beach Resort. Be warned, in the winter when a north swell is running, this beach can be very dangerous with a strong rip-tide and undertow.
Josiah's Bay, Tortola
---
Beaches on other islands:
Long Bay, Beef Island is just before the airport. It is a secluded beach with calm, sheltered water. Make sure you follow the signpost to the beach so as not to disturb the bird life.
Jost Van Dyke – when you disembark the ferry you can either take a taxi or walk over the hill to White Bay. This is a stunning sandy beach with several bars & restaurants. The most well known is The Soggy Dollar Bar which has been voted the best beach bar in the Caribbean.
Deadman's Bay, Peter Island is a beautiful palm fringed bay & can be reached by ferry or boat.
The Baths, Virgin Gorda has excellent snorkelling, if the conditions are right – check the colour of the safety flag! At the Baths, giant boulders form spectacular pools and hidden grottoes which flood with sea water. The National Parks Trust has built a natural path through the rocks to join the two main beaches. This area can become very crowded with tourists when cruise ships are visiting Tortola. You can reach the Baths either by boat or by land. There is a winding trail leading down from the parking lot at the Top of the Baths restaurant. If you enter by land, there is a small fee charged by the National Parks Trust.
The Baths at Virgin Gorda
---
Historical Sites:
Visit the Old Government House in Road Town; the Dungeon at Pockwood Pond; the remains of a sugar plantation at Mount Healthy and a working Rum Distillery at Cane Garden Bay.
---
Green is Best:
Visit the Botanic Gardens in Road Town or explore the Sage Mountain rain forest. Eco-kayak through a mangrove forest. Rent a mountain bike.
---
Island Excursions
Most of our guests take at least one day trip to a neighbouring island, all of which are very well served by ferries. A ferry schedule can be found in the BVI Welcome Tourist Guide but I suggest you always call ahead to check that the departure times are accurate! Please don't hesitate to give us a call if you have any questions about your planned excursion.
VIRGIN GORDA: If you don't go anywhere else, don't miss this trip! Ferries leave from the main ferry dock in Road Town and the 20 minute ride takes you to Spanish Town. As of April, 2013, the round trip ferry (Speedy's) fare was $30 pp. We can arrange for Nat's Taxi (496-6840 or 495-5470) to meet you at the ferry dock and look after you for the day. Alternatively, rent a car from Speedy's Garage (495-5240). Highlights are a visit to the Baths, hidden grottoes among giant rocks, a drive to the Copper Mine National Park, lunch at Little Dix Bay Resort and a scenic tour of the island.
Savannah Bay, Virgin Gorda
JOST VAN DYKE: The New Horizon Ferry (495-9278) leaves from the West End ferry dock in Soper's Hole and the 30 minute ride takes you into Great Harbour, JVD. Highlights are a visit to the beautiful beach at White Bay, lunch at the Soggy Dollar Bar, the home of the Painkillers, and a visit to Foxy's Bar. You might even be lucky enough to meet Foxy himself and listen to his own brand of entertainment. As of April 2013, the round trip fare was $25 pp.
MARINA CAY: This is a small island close to the airport. It belongs to the Pussers chain of restaurants and is reached by a free ferry from Trellis Bay. This is a nice place to spend a few hours. The beach is generally quiet and the bar serves simple meals and cold drinks. There is some snorkelling from the beach.
ANEGADA: Smith's Ferry service (494-2355) runs a day trip here three times a week, Tuesday, Thursday & Sunday but it's a good idea to call to confirm sailings. The ferry leaves from the Road Town ferry dock at 7am. The return ferry leaves Anegada at 5.00pm. This gives you a whole day to soak up the sun on one of the loveliest stretches of beach imaginable. There are several beachside restaurants offering lunch, but our favourite is the Big Bamboo at Loblolly Bay. Local Anegada lobster is the specialty. Snorkelling off the beach over a pristine reef is outstanding. Beware of rip tides in the winter! Yes, it's a long day, but if you have the time, well worth the effort! Alternatively, arrange a charter flight with Fly BVI (495-1747). Anegada is a flat coral island, 15 miles north of Virgin Gorda and is fringed by sandy beaches.
PETER ISLAND: This is home to the exclusive Peter Island Resort. Day visitors are welcome and the ferry operates from the Peter Island ferry dock at the eastern end of Road Town. You will need to call 495-2000 for the schedule and fare. Deadman's Bay is the resort's idyllic, palm fringed beach, just a short walk from the ferry dock. The eastern end of the beach offers lounge chairs and cabanas complimentary for day visitors. Lunch and drinks are available from the restaurant on the beach. On Sunday a steel band usually plays during the lunch hours. Reservations are necessary. The Spa at the resort offers a world class service. Call the resort at 495-2000 for an appointment.
NORMAN ISLAND, home to one of the best snorkeling spots in the islands at The Caves as well as the infamous Willie T floating bar, anchored in the Bight, can only be reached by boat. If you take a daysail or rent a power boat for the day this is one of the destinations to go to.
ST THOMAS, USVI: If you want a major shopping outing, then take a ferry to St Thomas for the day – the round trip fare is $55 per person. Call the ferry company for the schedule. Both Smith's Ferry (495-4495) and the Native Son Ferry (495-4617) run a scheduled service from the West End ferry dock at Soper's Hole. The Fast Ferry service (494-2323) leaves from Road Town direct to downtown Charlotte Amalie.
ST JOHN, USVI: This island is mostly national park and is much more peaceful than St Thomas. There is some shopping in the main town of Cruz Bay but the beauty of the island can only be seen by taking a drive around the island. A visit to the Annaberg Sugar Mill is certainly not to be missed.
If you decide on an excursion to either of these islands, Don't Forget Your Passports! You will be leaving the British Virgin Islands and entering the US Virgin Islands!
Bitter End Yacht Club, Virgin Gorda
---
Other Activities
SAILING: Private sailing trips to Norman Island for great snorkeling at The Indians and The Caves or Jost Van Dyke.
SCUBA: Blue Water Divers from Nanny Cay Marina or UBS at East End.
SPA & BEAUTY TREATMENTS: Have a masseuse visit you at the villa or go to a world renown spa like the one on Peter Island.
SHOPPING: The best souvenir shops are in Road Town and West End. All major supermarkets and beverage stores are in Road Town although there are convenience stores close to Summer Heights.
Shopping at Trellis Bay, Tortola
---
Tortola Restaurants & Bars
Whether you want a quick snack, a take away pizza or gourmet dinner, Tortola offers a wide choice of restaurants to suit all budgets and appetites! The BVI Welcome Magazine has a list of suggestions, along with price ranges.
The closest eating places to Summer Heights are on Nanny Cay:
Peg Legs Restaurant is located at the entrance to Nanny Cay marina, overlooking the Sir Francis Drake Channel. It offers casual dining for both lunch and dinner
with price range from $6 – $30.
Captain Mulligan's is found at the entrance to Nanny Cay. They offer a varied menu as well as great take-out Pizza. . It is the premier Sport's Bar on Tortola. There are
several large flat screen TVs and a huge 30 foot outdoor screen. Wherever you are sitting, you will have front row seats to the game. They also offer a Children's Recreation facility which includes a climbing
frame, playhouse and trampoline with extensive grass area for all of the family to enjoy. They have just opened a Miniature Golf facility.
Elsewhere on Tortola, in no particular order, some of our favourites are:
The Bananakeet Café  above the sea at the top of Windy Hill on Tortola's north west coast has one of the best sunset views you will ever find. Price range from $14 –
$35 & live music is on offer twice weekly.
Brandywine Estate is located on Tortola's southern coast overlooking the Sir Francis Drake Channel in a romantic garden setting. The cuisine is Mediterranean
Bistro style with Amuse Bouche and Champagne on Fridays and a Sunday afternoon roast. The price ranges from $ – $48.
The Dove is set in an historic West-Indian cottage in the heart of Road Town, opposite the main ferry dock. It is one of the Caribbean's top-rated restaurants and offers a wonderful
romantic ambience. Price range $22 – $40.
The Clubhouse at Frenchmans is in an absolutely beautiful location at the eastern tip of Frenchman's Cay at the west end of Tortola. It is open to the beach and
trade winds and offers a fabulous Sunday brunch as well as a French inspired menu for evening meals. Price range $8 – $35.
The Sugar Mill Hotel has two restaurants. Dinner is served in a romantic, 374-year-old stone sugar mill. Price range $26 – $40. Lunch is
served at Islands, a delightful, casual beachside restaurant.
Fish 'n Lime at Soper's Hole, Tortola was formerly the Jolly Roger bar. Under new management, it has quickly become a favourite with visitors and locals alike.
Myett's right on the beach at Cane Garden Bay. Lunch from $7 and dinner from $17. There are fabulous sunset views and nightly entertainment.
If you are looking for authentic sushi, then head to Origin. The restaurant is situated in the heart of Road Town, opposite the main ferry dock. There is also a roof top bar, offering an amazing variety of tropical cocktails.
The Last Resort is on Bellamy Cay in the middle of Trellis Bay at the eastern end of Tortola. Accessed only by boat, it also has a dedicated ferry for guests arriving by land. It is friendly and casual and offers good food for all the family.
The Tamarind Club at Josiah's Bay is well known for Sunday Brunch which includes a complimentary Mimosa, Bloody Mary's or Bloody Caesar. In addition, there is a Quiz Night every Friday for visitors and locals alike.
As you drive around Tortola, you will find numerous other bars and small restaurants. The above is just a sample of places we can recommend. Enjoy!