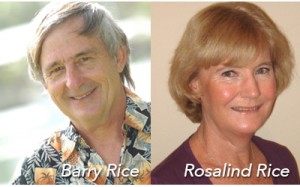 We always had a sense of adventure and were lured away from England in the 1970's by the sea. We sailed across the Atlantic to the Caribbean in our 32′ sailboat. Planning to be away for just one year, we never returned! Working as crew on charter yachts introduced us to the hospitality industry. When our daughter, Susanna, was born in 1986 we decided to settle in the beautiful British Virgin Islands. In the mid 90's we began plans to build our villa, Summer Heights. We chose Havers on Tortola's south coast because of its central location, easy access to all attractions, constant breeze and the amazing views. It's a great testament to the popularity of Summer Heights that we now have guests who return year after year. They enjoy the ambiance of peace and tranquility that our villa offers and can think of nothing better than sitting on the deck absorbing the ever changing vistas!
Our own apartment is tucked away on the lower eastern side of the property, completely separate from the villa. Please call on us for advice on where to go and what to do.
"We would love to share our little bit of paradise with you and introduce you to 'Nature's Little Secrets' – the hidden gems of the British Virgin Islands!"

The Rice Family
Contact Us
Barry & Rosalind Rice
Tel: 1 (954) 543-5056
Toll Free: 1 (800) 479-7904
Cell: Winter 1 (284) 346-0624 in the BVI
Cell: Summer +(44)  7523-289626 in UK
Skype: barryesii
Email: info@summerheights.com
Thank you. We have received your message and will contact you back shortly.
Something went wrong. Please contact us via email or phone. We truly apologize for the inconvenience.